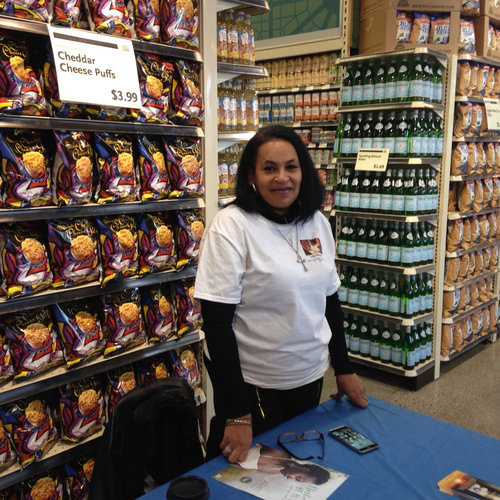 On September 29, 2004 God called me into the promise I made to him in April of 1997. Homeless with my 3 children and pregnant with my 4th because my present apartment's rules did not allow 2 bedrooms apartments to house a family of 5. I was devastated because I did not see a way to keep my 4th child from being born homeless, I begin to pray and ask God for help. I had been turned down for the projects and at that point I knew I had hit rock bottom. In prayer I made a promise to God that would change my life forever. I promised him if he got me out of this situation I would do whatever he wanted me to do in life.
Well he moved in a very powerful way as I ended up getting a home in the projects. I began attending college to make a difference in my childrens' lives as I didn't want to be a single mother on welfare and living in the projects. It took me 7 years to obtain a bachelor's degree. With it, I opened up a business and moved my family out of the projects. Not knowing that I was walking into my destiny.
On one September day, I was running my business when the spirit of God spoke to me and instructed me to go to Lansing and form Life Ministry as a non-profit organization. In obedience, I did just that. I ran the ministry from my place of business until I became ill and had to close it. In 2006, God instructed me to go to the Kalamazoo Gospel Mission to get permission to offer Life Ministry's services to homeless moms. This is when our journey truly began. We had a hard time at first obtaining funding to support the programs so I found myself selling my personal belongings to fund the ministry. I would take money budgeted for my personal food to provide gas to take the mom's on housing and job searches. No one supported me, and I was repeatedly told that I was wasting my time. This did not shake my faith as I never gave up. I kept writing grants and believing God would intervene.
One day, he did just that as I received a call from Dave Gardner from the Kalamazoo Community Foundation. Who gave me some well needed pointers on my grant request and then he FUNDED us! Yes, our first official grant after 6 years of struggles. Then, the Irving S Gilmore Foundation showed up with funding as well as the Harold and Grace Foundation. That's when I knew this was God saying I got this!
In 2012, Life Ministry was called to move from Kalamazoo to Detroit. Since then, we have become partners with the Detroit Land Bank to implement our Eyesaiah 58:12 rehab project, which is to rebuild the city streets and make them like new again. In doing so, we will provide homes for the homeless and low income families. We began providing our feeding services to the NSO Tumaini Center. Since July 2014, we have received continuous funding support from CBI Investments and Quality First LLC which we are totally thankful for. Now, Life Ministry is on a quest to offer Organizational support to other non-profits that are on the same mission we are. To END homelessness in Detroit. Our goal is to not just provide assistant services, but to show God's Love and renew the minds of those that have lost hope. I know how it feels to lose hope and not feel love and I have made another promise to the Father that I'll continue to dedicate my life to letting the world know that God loves us and there is HOPE!